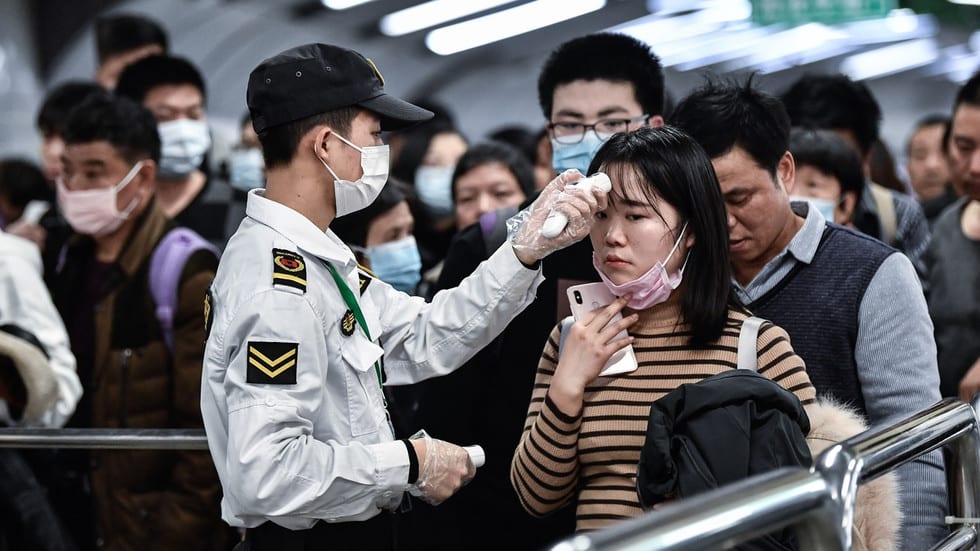 Everything You Need to Know About Traveling Into and Out of China Right Now
Amid growing uncertainty as to what faces both foreigners returning to China and those trying to leave, China's National Immigration Administration recently released details on what Chinese and foreigners can expect when dealing with immigration.
The document begins with a steadfast reprisal of the government's ongoing response to the coronavirus, noting that they are, "fully confident and capable of winning this epidemic prevention and control to stop the war." In all, however, the announcement appears mainly concerned with allaying fears or uncertainties about traveling in China, and reiterates that foreigners are permitted to enter and exit the country and that "with the exception of Wuhan [where you can only enter, not exit], visa authorities in China are still operating normally."
What the document lacks are details about the type of health checks or protocols foreigners can expect when entering or leaving. This is likely due to the fact that there is no standardized procedure, with many local authorities, much like individual compounds in Beijing, taking their precautions. For example, we've heard some reports of people being shooed away from their local police station after trying to register their residence permit, being told that they should instead be self-quarantining. Interestingly, as stated below, the government "may lighten, mitigate, or exempt the overdue residence penalty in accordance with the law and regulations" during this time.
Are foreigners allowed to enter or exit China during this period?
Under these guidelines, foreigners are recommended to reduce cross-border travel in an effort to "effectively prevent and control the epidemic" but can continue to travel and stay in China. It adds that if you are showing symptoms (fever, coughing, shortness of breath, etc.), you should not travel internationally and instead immediately seek diagnosis and treatment, including giving a summary of recent activities, places visited, and those people you've had close contact with. Read about Beijing's designated fever clinics here.
As a reminder, those who are returning to Beijing will be expected to complete a 14-day self-quarantine as advised by their compound or hotel (more on that here). These orders are being fulfilled with various levels of enforcement and run the gamut from complete confinement to house or room, required registration and temperature checks to leave and re-enter your compound, or no restrictions whatsoever. Meanwhile, if you're planning to leave, make sure to check whether or not your destination has imposed restrictions on people traveling from China.
The entries below are a translation of the document, with clarification where needed.
How do foreigners apply for a visa extension and residence permit?
During the epidemic prevention and control, the Exit/Entry Administration (EEA) and Public Security Bureau (PSB) will continue to provide foreigners with visa extensions and access to residence permit application services across China to ensure their legal stay and residence. Services for urgent or emergency situations will also be provided [the document does not detail what these are]. To avoid crowding, the EEA will arrange appointments as best determined based on the situation at the time of application. Foreigners can make appointments in advance for applications [again, no details on how]. For those institutions which host a high number of foreigners, such as universities, scientific research institutes, and business enterprises, the EEA will allow additional agent services or provide other necessary conveniences depending upon the situation.
What should I do if my visa or residence permit expires during this time?
According to law, foreigners should leave the country before their visas and residence permits expire. Those who need to stay in China should go to the Exit and Entry Management Department of the PSB to apply for visa and residence permit extension procedures. According to the relevant laws and regulations and current situation, if it is difficult to leave the country due to the ongoing epidemic prevention and control, and visa or residence permit extension procedures cannot be processed in a timely manner, the EEA may lighten, mitigate, or exempt the overdue residence penalty in accordance with the law and regulations.
How should foreigners in China best cooperate with epidemic prevention and control?
Foreigners should increase their awareness regarding self-protection, try not to go to crowded places, and actively cooperate with their communities, compounds, and receptions to help implement epidemic prevention and control measures, as well as abide by relevant laws and regulations. Prevention, control, and management measures should also be adopted by institutions, health workers, and other departments. If you show symptoms of a fever or acute respiratory infection, you should report it to the local community or EEA in a timely manner and actively cooperate with diagnosis and the investigation. The EEA at all levels will further carry out consultation work with relevant departments on prevention and control services for foreigners in China, assist medical and health institutions in screenings and treatment, and help resolve difficulties and problems encountered by foreigners during their stay and residence.
To read the original Chinese document in full, click here.
READ: These Airlines Have Called it Quits Over the Coronavirus
Image: Travel Wire News
Comments New comments are displayed first.